A True Asset: The American Soldier for Life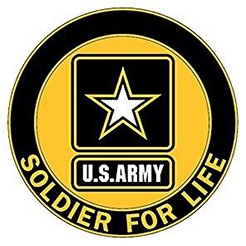 My name is Lieutenant Colonel Keith Wilson, and I am a United States Army Soldier.

I commissioned into the Army as a second lieutenant of Armor in 1997 as a graduate of the US Military Academy. I have served around the world in places like Kansas, Korea, California, Colorado, and Georgia. I have deployed to Iraq, Afghanistan, and Kuwait.

I currently serve with the US Army's Soldier for Life program in Washington D.C. as the director for the northeast US and Europe. Our program improves long-term strategic readiness by developing a comprehensive network of resources to support every Soldier, Veteran and Family member through all phases of the Soldier Life Cycle. We attempt to achieve this through strategic outreach and by shaping education, employment, and health policies, programs and services to inspire citizens to serve and to create an environment where Soldiers transition to be productive Veterans of character, integrity, and service.

A key component of our effort as regional representatives is to align with state and local governmental and non-governmental agencies, organizations, universities and businesses across our region that provide support for and assistance to Veterans and their families. A map showing contact information for your regional Solder for Life representative can be found here.

I arrived to the SFL program this past summer, and began my efforts trying to learn as much as I can about transitioning service members…there is a lot to learn!
Let me tell you about a uniquely wonderful slice of America. They come from all walks of life. They come from different ethnic, religious, educational, financial, and social backgrounds yet are all held to the same demanding standards in the military regardless of their demographic differences. They are American Soldiers, and those differences are what makes us a strong, diversified organization. Studies have found that 71% of America's youth (age 18-24) are NOT eligible for service in the military. The top three disqualifiers are obesity, drug-related (abuse, crime, etc.), and lack of education.

Only 1% of the US population is currently serving in the US armed forces. Approximately 7% of the US population has served in the US armed forces. Veterans are a small, but unique subset of American society.

Every year, approximately 230,000 military service members transition out of the military due to completion of service obligation, retirement, or other reasons. Of those transitioning service members, approximately 120,000 come from the Army alone. Each of those transitioning service members brings a unique set of qualities, skills, attributes, and experiences that few others can provide. We often say that if your company is interested in an employee that can show up on time, bring the right gear, and pass a urinalysis test then they should consider hiring a transitioning service member. There is more to it, but that is a good start for much of today's society.

In early October, I had the opportunity to speak with members of the Forest Resources Association about the value of Veterans in the workforce specifically as it relates to the forestry (agriculture) industry. Our program is working across the country with federal, state and local governmental and non-governmental organizations to identify resources to assist service members transitioning into agriculture and/or agribusiness.

Our transitioning service members come with skills such as heavy equipment operator and maintainer, small and large engine repair, electrician, unmanned aerial vehicle operator, supply clerks, human resource specialists, veterinarian technicians, and vertical and horizontal engineers to name just a few. They bring attributes such as leadership, time management, attention to detail, focus on job completion (mission accomplishment), and the ability to work independently or as part of a team. If these characteristics seem relevant to you and your organization, consider hiring a Veteran.

My name is Lieutenant Colonel Keith Wilson, and I am a United States Army Soldier…for life!

Please connect with us to learn more at https://soldierforlife.army.mil
__________________
Disclaimer: This blog post is informational in nature only and is not intended as an endorsement by the Department of Defense or the Department of the Army of a non-Federal entity, or any non-Federal entity products and services.

Related Links:
• Soldier for Life (https://soldierforlife.army.mil)
• Obesity epidemic continues to ravage American youth: Nearly three-quarters aren't eligible for military service (https://www.naturalnews.com)
• The Target Population for Military Recruitment: Youth Eligible to Enlist Without a Waiver (http://dacowits.defense.gov)