Cross-Laminated Timber (CLT): BIG, STRONG AND PROMISING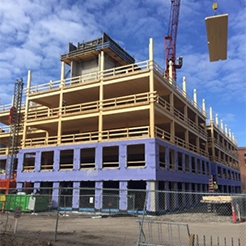 Cross-laminated timber (CLT) is said to have first been developed in Switzerland in the early 1990's. Since then, it has become increasingly popular across Europe in modern architecture and building construction, and it now appears to be gaining some momentum here in North America.

What is CLT? It's basically "monster plywood." Instead of being a wood panel sandwich made from thin veneers, it's a larger panel that is typically made from layers of softwood lumber. The strength and stability of the product make it a viable alternative to concrete and steel. Most CLT consists of an odd number of layers (typically 3 to 7) that can be precisely cut to size (even sanded) at the mill before shipment to the job site.
There's been a lot of "buzz" over the past several years in academia and in research publications about the potential for CLT to become more widely used in North America, especially in tall wood buildings. (To view a recent presentation on CLT in tall wood buildings, see: https://forestresources.org/publications/16p45.pdf).

In addition to the natural aesthetic appeal of wood, proponents cite numerous other advantages when comparing CLT to concrete and steel:

• Lighter in weight
• Speed of construction
• Cost competitive
• Renewable resource
• Seismic performance
• Thermal efficiency
• Acoustic advantage
• Carbon friendly

While research on CLT has been ongoing since the product was first developed over 20 years ago, mass timber products are relatively new to the U.S. market. Designers and code officials are looking for more peer-reviewed studies to support these innovative design methods and broader building code acceptance in North America. Public/private partnerships with the U.S. Forest Service (USFS), provide the opportunity to understand the practical application potential of mass timber products in the built environment. Continued research areas include performance when exposed to fire, lateral loads, and prolonged moisture.

As of now, there are only a handful of CLT producers in the U.S. and Canada. Groups such as Think Wood, The American Wood Council, and FPInnovations, along with the USFS have been working to study and promote the advantages of CLT in building construction. It's likely that over time the North American market for CLT will continue to grow, increased production will follow, and CLT usage will eventually become more commonplace.