Michigan Forest Bioeconomy Conference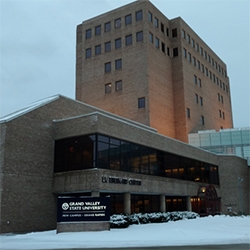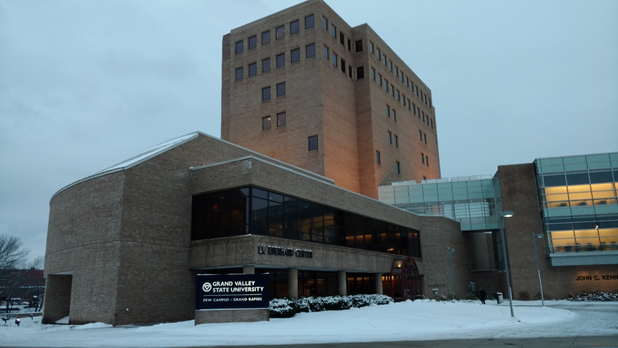 The Eberhard Center at Grand Valley State University (GVSU) in Grand Rapids, Michigan was host to the Michigan Forest Bioeconomy Conference held February 1-2, 2017. More than 100 people attended the event, with good representation from both the public and private sectors. Public sector representation came chiefly from forestry, education, economic development, and regulation. The private sector had a mix of primary & secondary manufacturers, as well as industry associations, consultants, and landowners.

GVSU Dean Fred Antczak kicked off the conference by noting, "This is one of the most important topics to the future of Michigan". Michigan's State Forester, Bill O'Neill, then explained how Governor Snyder's efforts to "Reinvent Michigan" and the formation of a Timber Advisory Committee led to the 2013 Timber Summit. U. S. Senator Debbie Stabenow (via pre-recorded video) noted the success of the Good Neighbor Authority in getting more federal timber harvested, the Timber Innovation Act, and the prioritization of forestry in the last Farm Bill. Dean of Michigan Tech University (MTU) School of Forestry & Environmental Science, Terry Sharik, then reviewed some of the events leading up to this conference, as well as to the formation of the Michigan Forest Biomaterials Institute (MiFBI) in 2013. Dean Sharik emphasized how the "Quality of Life Cycle" must be at the heart in planning for any future sustainable forest industry development.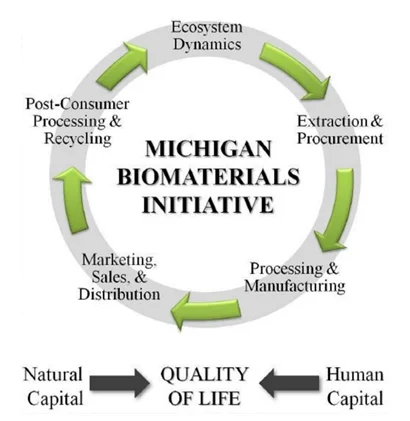 David DeYoe, adjunct Professor at Michigan State University (MSU) and MiFBI Board Chair, described MiFBI's role as being one of "reimagining forestry", by integrating waste stream recycling and value added production throughout a closed-loop process. Dr. DeYoe noted forests, farms, and cities are all sources of biomaterial recycling opportunities. He cited St. Peter, MN as an example, owing to the fact the city was virtually wiped off the map by a 1998 tornado, and has since been rebuilt into a nearly closed-loop community.

Trevor Suthridge, Executive Vice President of FP Innovations, gave a presentation which described how the Canadian non-profit organization was formed in 2007 with the amalgamation of various public and private partners to conduct research and provide technology transfer to the forest products industry. Dr. Suthridge noted the importance of creating a common lexicon, describing what we do, and detailing how we get it done, as being critical to the success of FP Innovations. He also cited the "30 by 30 Climate Change Challenge" and the recent economic downturn as having provided the impetus for both government and private investment in research aimed at discovering new pathways for revitalization of Canada's forest-based economy.

Jim Bowyer with Dovetail Partners Inc. gave a presentation entitled, "Economic Implications of a Bioeconomy". Dr. Bowyer started by noting that we were a bioeconomy 150 years ago, as our fiber and fuel needs were then nearly exclusively sourced from plants and animals harvested from farms and forests.

Anecdotally, he noted that the Model T auto ran on ethanol fuel, but Prohibition outlawed ethanol fuel production and turned the automobile industry towards gasoline, effectively killing the ethanol industry until the gas shortage of the late 1970's. He added that we will by necessity need to return to those traditional sources of fiber and fuel as our buried stocks of hydrocarbon are depleted over the next 200-300 years. Dr. Bowyer also lamented the fact that – except for the pulp & paper sector – there is a very low rate of waste recovery and recycling that occurs throughout much of the wood industry.

Mark Rudnicki, Professor of Practice in Forest Biomaterials at MTU, cited climate change, population, urbanization, digitalization, consumerism, and eco-awareness as mega-trends driving change in the forest products industry. Dr. Rudnicki also noted the growing trend toward viewing the supply chain as being circular as opposed to linear, and the increased tendency to refer to "value chain" instead of the "supply chain". One of the greatest challenges going forward, he suggested, would be how to "make it fair" for all links in the supply chain.

Archie Landreman, Regional Director of WoodWorks (an initiative of the Wood Products Council), gave a presentation on mass timber buildings. He described how engineered wood products such as cross-laminated timber (CLT), nail-laminated timber (NLT), glue-laminated timber (GLT), laminated veneer lumber (LVL), Laminated structure lumber (LSL), and Structural Composite Lumber (SCL) are becoming increasingly popular for tall urban building construction where codes will allow their use.

Concurrent breakout session talks were held the final hour of the first day and through the most of the morning of the second day. The themes for the three sessions were Wood Innovation, Mass Timber Buildings, and Wood Recycling. Jake Elston, V.P. of Operations for Arauco, N.A., told Wood Innovation attendees, "We feel lucky to be in Michigan" in referring to his company's $400 million investment in the particleboard plant being constructed in Grayling, MI. Adam Pringle, a graduate student in Materials Science & Engineering at MTU, gave those in the Wood Recycling session a glimpse of research being conducted with wood composite filament utilization in manufacturing, and showed models of 3D printed objects using wood fibers as the printing medium.

If you haven't guessed by now, the term "bioeconomy" widely refers to economic activities that use renewable bio-based resources for production of services, products, or energy. This conference included a good mix of participants, topics, and presentations. Innovative practical uses for wood were mixed with pie-in-the-sky, futuristic applications. The conference was the result of collaboration between MTU and MSU, along with key partners from industry and government, in work on the steering committee and strategic planning committee.