Forest Industry an Engine of the Rural Economy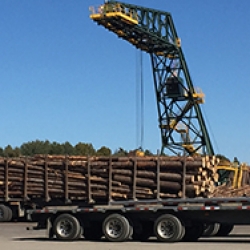 We all know that forests and forest industries are important to rural economies, but how important? One way to measure economic impact is to drive through any forest industry town and observe the activity – every truckload of logs moving down the street meant jobs for a logging crew and jobs at the mill. There's also the real way – take a hard and objective look at the jobs, value added and the multiplier these activities create.
The January FRA Northeast Region Forest Forum featured three speakers discussing the economic impact, opportunities and challenges of the forest industry in Maine and the Northeast. Dr. Mindy Crandall from the University of Maine presented her 2016 (estimated) findings:
Maine forest products industry contributed $8.5 billion to the state's economy;
Supported over 33,538 full- or part-time positions (roughly 1 out of every 24 jobs in the state are tied to the forest industry); and
Produced $1.8 billion in labor income.
There's obviously a lot that goes into these numbers, and for more information you can read a press account developed from the Forest Forum, a recent publication "Maine's Forest Economy" by the Maine Forest Products Council, or an in-depth summary of Dr. Crandall's work.
We also heard from Nicole Bernsen, a Ph.D candidate at the University of Maine. Her work focuses on identifying the skills and skill expectations of the forest industry workforce from three perspectives – employers, early career professionals and current students. In its early stages (and inviting feedback from the group). Ms. Bernsen noted how this information would inform a "gap analysis" – helping all parties determine skill and training matches (or mismatches), and connect supply and demand for labor. We are looking forward to hearing more as this research moves forward.
Our final speaker was Charles Levesque, partner in the firm Innovative Natural Resource Solutions LLC and executive director of the North East State Foresters Association. Mr. Levesque brought the discussion beyond the boundaries of Maine and showed how important – and resilient – the forest industry is throughout the Northeast. The data shared showed significant rebounds since the economic recession of 2008 for forestry, wood products manufacturing and pulp and paper. Across the region, each of these sectors has brought back economic activity (using the measure of GDP, or "gross domestic product), and remain important engines of economic activity.
These presentations were a great opportunity to step back and view the industry as a whole. While it is no secret that the industry has lost mills and jobs in the Northeast, it is also true that there are areas and opportunities for growth. The industry is diverse and robust, and an important part of the rural economy across the Northeast.