New Report Reveals Southern Landowners Key to Helping At-risk Wildlife, Providing Sustainable Wood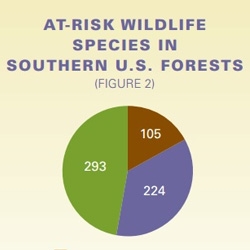 Across the 13 Southeastern states, Southern forests are some of the most productive in the world. These forests supply much of the raw material for consumer wood products worldwide, account for more than $230 billion in economic revenue, and support nearly 1.1 million people in rural communities with employment.
At the same time, these forests rank at the top in terms of biodiversity when measured by wildlife and plant species. However, due to forest conversion to non-forest uses such as agricultural land and commercial development, as well as natural fire suppression and an influx of invasive species, a significant number of the wildlife species are now at risk. Currently, there are 224 forest dependent species listed as endangered or threatened, with 293 candidate and petitioned species that could be listed in the near future.
While many look at our South forests as an industry versus conservation story, a new report from the American Forest Foundation (AFF), the leading forest conservation nonprofit that works with family and private owners, found that in the South, what is really happening is an industry and conservation story.

According to AFF's new report, Southern Wildlife At-Risk: Family Forest Owners Offer a Solution family landowners, who own the majority (58 percent) of the forests in the South, are key to providing forested habitat for at-risk species and sustainable wood supplies for the industry.

Eighty-seven percent of landowners in the South, say protecting and improving wildlife habitat is the top reason they own land. In addition, 73 percent state they want to do more on their land for wildlife in the future. Landowners cite uncertainty about whether they are doing right by their land, difficulty finding support, and the cost of management as barriers.
What's more, the survey found that, contrary to popular belief, landowners who harvest or thin their forests are the individuals doing more for wildlife. 85 percent of those who have harvested have also implemented one or more wildlife-improvement activities, compared to 62 percent by those who haven't harvested.

This is likely because landowners who harvest are working with foresters and other professionals and getting the needed information and technical assistance. They are also receiving the needed income that may be reinvested in their land, likely in what matters most to them: wildlife.

Thus it is possible to grow and support the South's forest-based economy and improve habitat for wildlife at the same time by working with family landowners. What's needed is getting more landowners engaged in forest management.

The report identified 35 million acres of family-owned forests, in three key landscapes in the South, where an increase in landowners managing can provide habitat for at-risk wildlife while continuing to support the future supply of wood.

Already AFF is beginning to do this with conservation and forest industry partners.
For example, in Alabama, a successful partnership is underway where AFF is working with the Alabama Forestry Commission, the Natural Resources Conservation Service, National Wild Turkey Federation, National Fish and Wildlife Foundation, International Paper and others. Conducting outreach, hosting field days and providing one-on-one assistance, the partnership is helping landowners start and continue to manage their forests on an ongoing basis. Already, the partnership has reached 350 landowners who collectively own more than 28,000 acres.
More of these partnerships in key landscapes are needed. But it will take the collaboration of many diverse entities to make it happen.

For the full report, or for contact information to get involved, visit the American Forest Foundation report page on our website.