National Bioenergy Day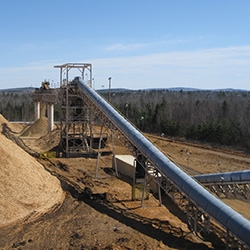 October 19 is National Bioenergy Day, designated to recognize the important role that biomass energy – particularly wood energy – can play in supporting stronger rural economies and a healthy environment. The forest products industry has long known the benefits of biomass energy – using wood fuel to run boilers, power mills and provide steam to kilns. Our industry has been using bioenergy since…well, since we became an industry.
Today, wood energy includes electricity, combined heat and power installations, electricity generation, heating of homes and institutions, and the manufacturing of wood pellets for use both domestically and overseas. It is a diverse sector, and an important sector that utilizes low-grade wood and residues, providing important markets for landowners, loggers and mills. It is a sustainable energy source that helps support forestry, diversifies our energy sources, and supports rural economies.
Within FRA, we have members that manufacture wood pellets, mills that use wood chips to provide electricity and steam to run the facility, loggers that use biomass markets in order to utilize low-grade material, and landowners that rely on these markets to help practice responsible forestry. Each region of the country has unique energy and market dynamics, but biomass energy is an important – often integral – link in the forest industry supply chain nationwide.
In order to support the important benefits of biomass energy – in all its forms – the Forest Resources Association joined with other leading forest industry organizations to support Biomass 101. Biomass 101 is an effort to help educate policy makers, the media and opinion leaders on the facts about bioenergy. FRA is committed to sharing information about the carbon benefits of biomass energy, and getting the facts out about the contribution of the forest industry supply chain to a renewable and sustainable future.