19-S-06
Winching Operation Uproots Standing Tree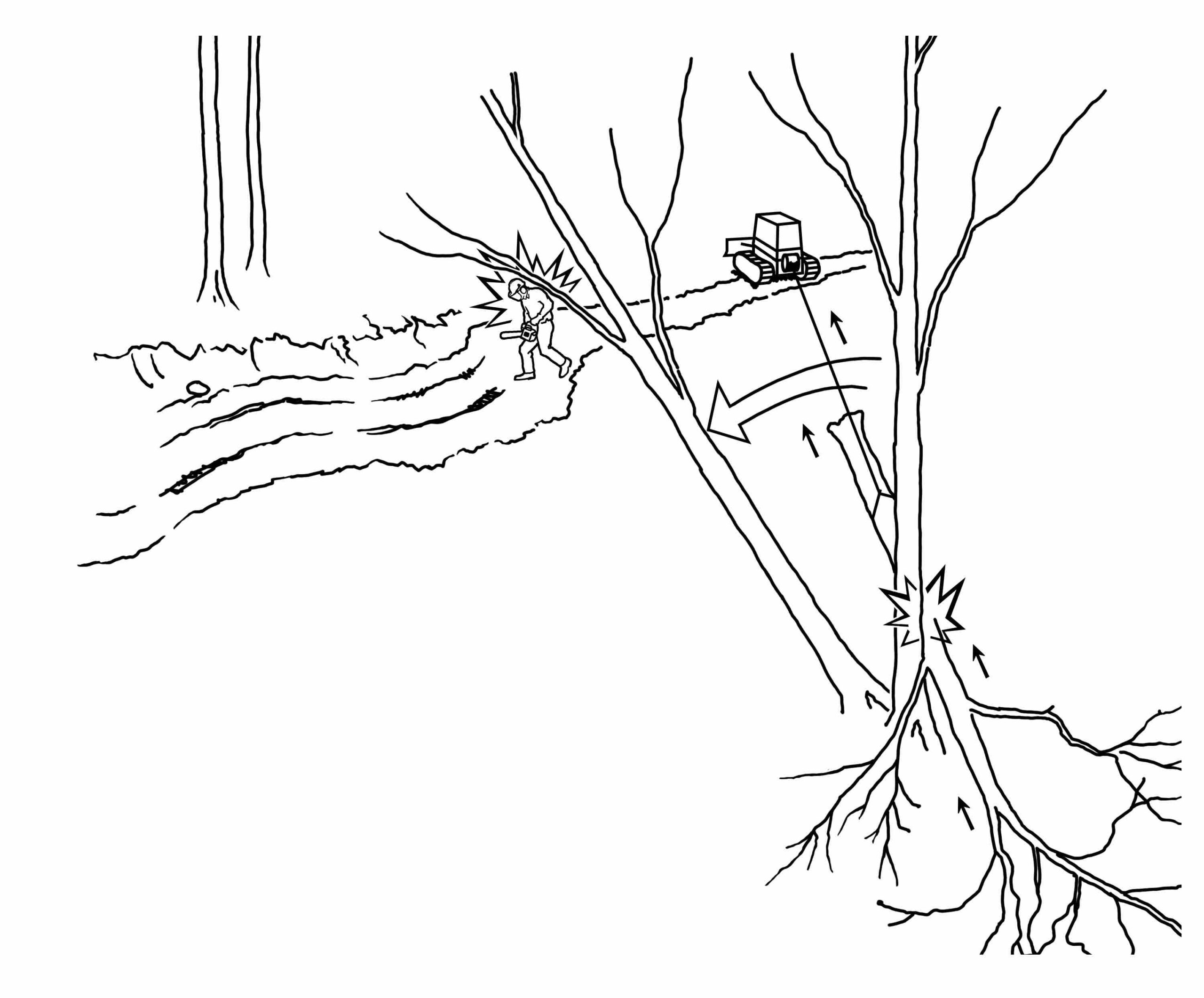 Background
On a winter morning in the Appalachians, a timber cutter was felling timber in a clear-cut harvest. The terrain on this tract varied with elevation and the crew decided to harvest some of the steeper terrain by means of conventional hand-felling and dozer with a cable winch. The ground was saturated from record high rainfall during the few months prior to this incident.
Personal Characteristics
The 36-year-old timber cutter was the son of the logging business owner. He had grown up around the business, knew the ins and outs of the logging operation, and was described as very safety conscious. The timber cutter and the dozer operator were both wearing chaps, hardhat with ear protection attached, and eye protection.
Unsafe Acts and Conditions
The timber cutter had felled a large hickory tree over a steep embankment and had walked uphill to the next bench (approximately 75 feet away) to wait for the dozer operator to pull the tree uphill so he could top/trim the tree. The dozer operator was on the same bench (same contour) as he began winching the hickory up the embankment. A tall, healthy sassafras tree was standing uphill from the hickory and was partly in the path of the winched tree. The timber cutter was within the strike zone of the sassafras and too close to the dozer and its winching path.
Accident
The crown of the hickory caught the 16-inch-diameter sassafras tree. It uprooted and fell uphill. The sassafras tree struck the timber cutter in the center of his lower back.
Injury
The tree did not pin the feller to the ground, and he was able to get up and seek help from the nearby dozer operator. He walked/rode out of the woods and was immediately transported to the local hospital. Upon medical evaluation, it was found that the logger had sustained several broken vertebrae, and he had bruised and cut his forehead when he contacted the rocky ground. He was off work for a month and was then able to return on light duty, loading trucks and bucking up logs and pulpwood.
Recommendations for Correction
Always adapt to weather and ground conditions. Timber fellers and chain saw operators should constantly evaluate their surroundings to identify trees in the cutting radius, potential hazards (dead limbs, lodged trees, grapevines, unusually wet ground, etc.), and obstructions to a safe escape route.
On-the-ground workers (timber fellers) should stay at least "twice tree height" from danger trees and from other active felling, skidding, and winching operations.
Employers should ensure all employees are properly trained on the OSHA logging regulations and receive continuing safety education when warranted.
Always wear all required personal protective equipment. Ground personnel should wear high-visibility clothing or vests.
All personnel should be trained in First Aid and CPR to address treating injuries on the job site until EMS takes over. (It's usually best to immobilize a back injury victim and have professional first responders take care of moving him out of the woods.)