18-S-11
Logger Injured During Processor Head Repair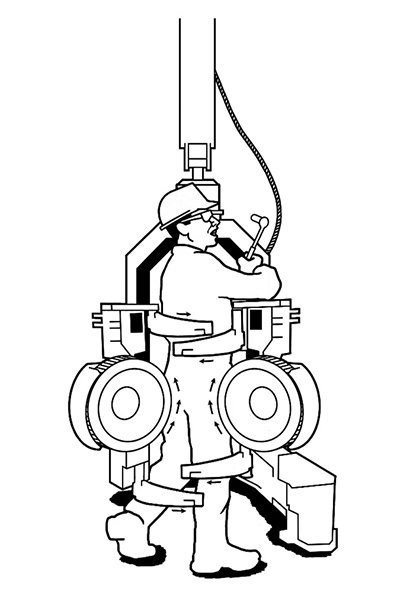 Background
On a mid-winter morning in the Lake States Region, a logger began his workday by performing maintenance on the processor head of his recently purchased cut-to-length harvesting machinery.
Personal Characteristics
The logger was in his forties and had been working in the woods all his adult life. He was considered by most to be a safe and conscientious individual. He had never been previously injured while working in the woods. However, the shortwood (cut-to-length) system was new to him and was a challenge to learn.
Unsafe Act and Condition
He arrived to work with a bolt to put on the processor's head. The bolt was needed to hold a guard in place which protected the hydraulic cylinders from damage while processing trees. He checked the fluid levels of the machine and started it up, leaving the engine idling to warm it up. The machine was still running when he reached in to thread the bolt into the hole.
Accident
While he was threading the bolt, the grab arms of the machine closed and pulled him into the head of the processor. The grab arms held him, and the feed rollers started slowly spinning, rubbing against the man's body.
Injury
The logger lost consciousness. Fortunately, his co-worker saw what happened and was able to quickly open the arms of the head and shut the machine down. The man was rushed to the hospital by ambulance, where he was held for a brief stay for treatment of soft tissue damage. No bones were broken, and the logger was expected to make a complete recovery.
Recommendations for Correction
While the reasons the arms grabbed the man and pulled him into the machine are not clear, the accident would have been avoided if the following lockout/tagout procedures had been followed before beginning maintenance:
Shut the machine down, apply the parking brake, and park it on level ground.
Ground implements; relieve residual pressure on all attachments and other moving parts.
Disconnect or isolate the machine or part of the machine from the energy source.
Place a lockout-tagout device(s) on the implement or machine.
Verify the lockout is working by attempting to start and operate controls; when confirmed, return the controls to the neutral or off position and begin work.
Additional Considerations
Complete a pre-job safety assessment before starting any job, especially when performing an emergency, new, or non-routine task.
Do not perform maintenance with the machine running unless the operator's manual specifies this step. If it must run, follow the manufacturer's guidelines and use a cylinder lock or other blocking to prevent movement of parts.
Never perform any potentially dangerous task alone if at all possible.
Cross train equipment operators so machinery can be operated in emergency situations.
Have directions to the job site available for communication to emergency vehicles, and keep road access open to them whenever possible.