21-S-07
Limb of Hung-up Tree Kicks Back Fractures Chainsaw Operator's Leg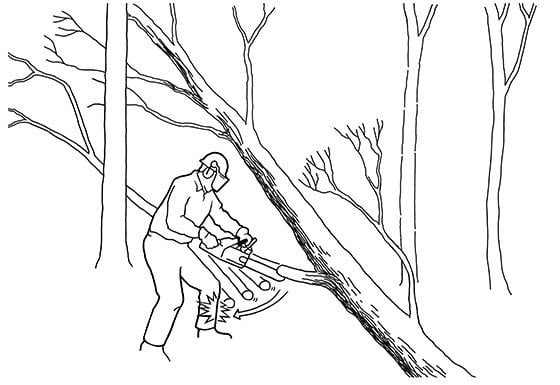 Background
During a nice fall day in the Lake States Region, a logging crew was hand felling large white oak trees. The trees were felled with a chainsaw. The ground where the crew was working was relatively flat. The sun was shining.
Personal Characteristics
The employee was part of a four-person logging operation that had been in business for 65 years. The employee involved in the accident was a 60-year-old man who had worked in the woods for more than 30 years, hand-felling with a chainsaw.
Unsafe Conditions
The employee was felling a large white oak tree at the end of the workday. The tree was felled and hung up six feet off the ground.
Accident
While the employee was working the tree free, he cut one of the limbs off. He did not notice the limb was pressured up against a smaller tree. When he cut through the limb, it sprung loose and struck him in the leg. The employee did not anticipate the limb kicking back towards him.
Injury
The employee suffered multiple fractures in his leg that required surgery to repair. The surgery procedure involved inserting a rod and screws to stabilize the fractures and allowing the leg to heal. The employee is scheduled for 13 weeks of rehabilitation and anticipates a full recovery.
Recommendations for Correction
Wear proper Personal Protection Equipment for the job you are performing.
Stay focused on your task at hand. Do not be complacent at the end of your workday.
Asses the landing area of the tree and avoid felling into areas where the tree can hang up.
Pay attention to a tree if it does become hung up and look for areas of stored energy. Asses possible cutting scenarios and risks.
Make sure your feet are on solid ground and positioned correctly before cutting.