FRA Press Release 05-16-2023
FRA 2023 NATIONAL OUTSTANDING LOGGER AWARD WINNER
Tuesday, May 16, 2023
A.M. LOGGING, LLC RECOGNIZED AS FRA 2023 NATIONAL OUTSTANDING LOGGER
Point Clear, AL, May 9, 2023 – The Forest Resources Association (FRA) and STIHL honored A.M. Logging, LLC of Millheim, PA, as the 2023 National Outstanding Logger at FRA's Annual Meeting in Point Clear, AL, on May 9. FRA Chairman, Pete Stewart, presented Mark Byler, Wes Miller, and Andrew Miller with a plaque to commemorate the accolade, and Doug Hollis, Territory Manager with STIHL Southeast, Inc., presented the worthy winners with a $1,000 check on behalf of STIHL, recognizing them for their achievement.
Mark, Wes, and Andrew graciously accepted the award. The owners acknowledged that their employees and families were the reason for their company's success. Wes Miller remarked that A.M. Logging, LLC proudly supports Children's Miracle Network Hospitals and would donate the $1,000 received from STIHL at the Log A Load For Kids parade. The parade is scheduled for later in the year.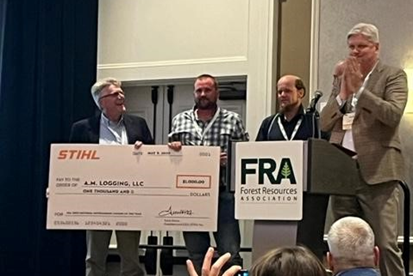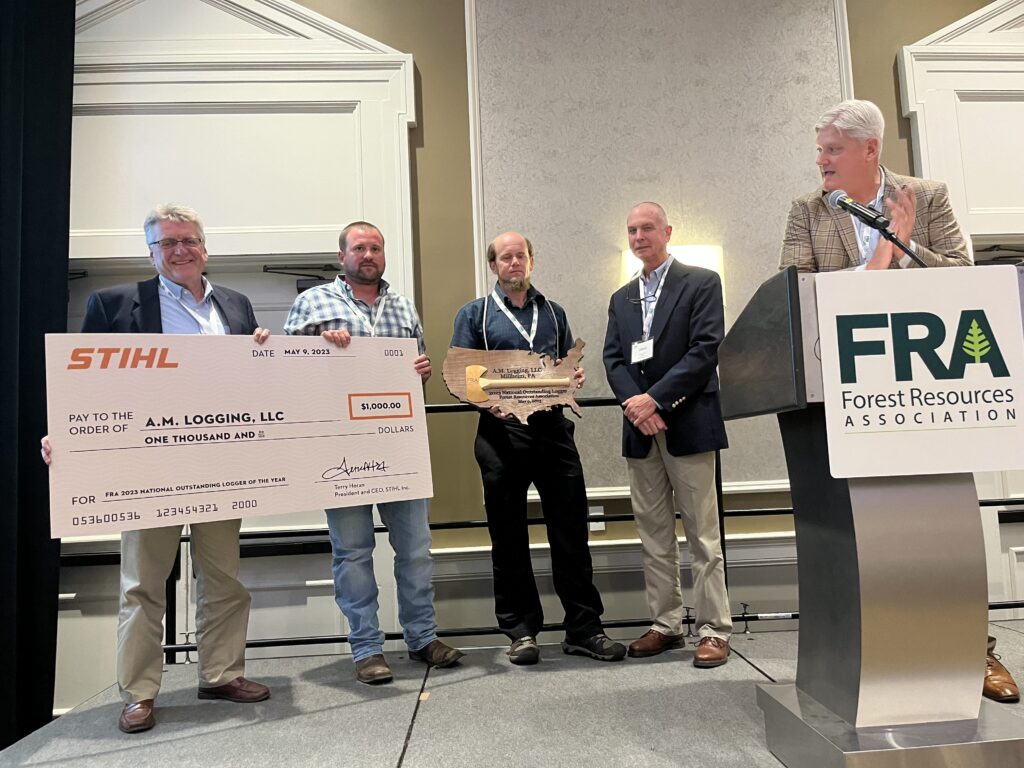 A.M. Logging, LLC was established in 2007 by Andrew Miller and Mark Byler. Their company offers land clearing, timber harvesting, excavating, chipping, and grinding services. Since 2017, the company has been a FEMA-approved contractor for natural disaster relief. Last fall, in response to the damage caused by Hurricane Ian, they sent a team of employees and equipment to Pine Island, FL. The team worked for four months, helping to clean up the debris and get people back on their feet. 
Their philosophy is "zero waste," and in the spring of 2023, A.M. Logging, LLC opened a mulch yard in Lewisburg, PA. The yard is helping to meet the growing demand for hardwood mulch while providing a home for the residual, lowest-value wood from the harvesting operation. A.M. Logging, LLC supports and participates in the Sustainable Forestry Initiative (SFI) training in PA. This training helps to improve safety, environmentalism, productivity, and professionalism of forest industry members. They are making a difference in the industry and community while making customers happy!
Check out their Facebook page for more great videos and testimonies of A.M. Logging, LLC.
About Forest Resources Association (FRA)
FRA is an association representing the interests of more than 350 organizations and businesses in the forest products industry, including forest landowners, suppliers, consuming mills, associated businesses, and state forestry associations. Members all share a common interest – they rely on FRA to promote the public policy interests of the forest products industry's supply chain on Capitol Hill and our work to advance safety, operational and technical efficiencies, and supply chain relations. FRA has member representation in 49 states and 377 Congressional Districts.
---
FRA encourages you to share our Media Releases, available for download by pressing the download button at the top of each article or by link sharing via social media.