21-S-05
Loader Operator Injured During Improper Dismount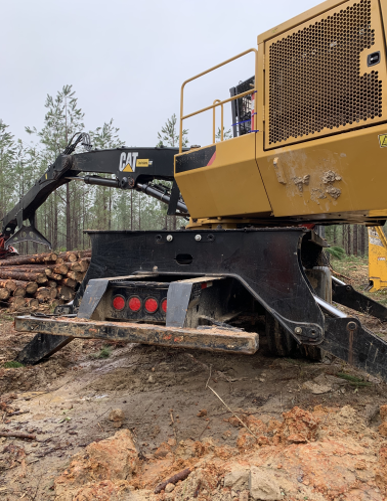 Background:
On an overcast winter afternoon in the Southcentral U.S., an equipment operator was attempting to dismount the loader at the end of the workday. Although it was not raining on the day of the incident, a few sprinkles did occur the previous night.
Personal Characteristics:
The loader operator had over 30 years of industry experience and was a family member of the business owner.
Unsafe Acts and Conditions:
The loader was operating too close to a stack of logs, creating a hazard for proper dismount from the front of the machine. The operator determined that exiting at the rear of the machine was safer than exiting at the front to avoid walking between the loader and the pile of logs.
Accident:
While attempting to dismount the loader, with his back facing the cab, the operator stepped down to the back bumper with his left foot. As he stepped to the ground with his right foot, his left foot slipped from the bumper.
Injury:
During his fall, the operator's left leg landed in the hole between the bumper and the corner brace, approximately to a depth of mid-thigh. The operator's body continued to fall forward, fracturing his left femur just above the knee. Other crew members provided assistance, and the inured operator was transported to a local hospital.
Recommendations for Correction:
Maintain "three points of contact" when mounting or dismounting loaders, trucks, or other logging equipment.
Always face the steps or cab when mounting or dismounting equipment.
Keep walkways and exit routes clear of hazards that can cause unsafe practices or working conditions.
Ensure footwear is free of mud, oil, or other substances that can cause poor traction.