20-S-21
Unsafe Procedures were used for Loading Skidder on Trailer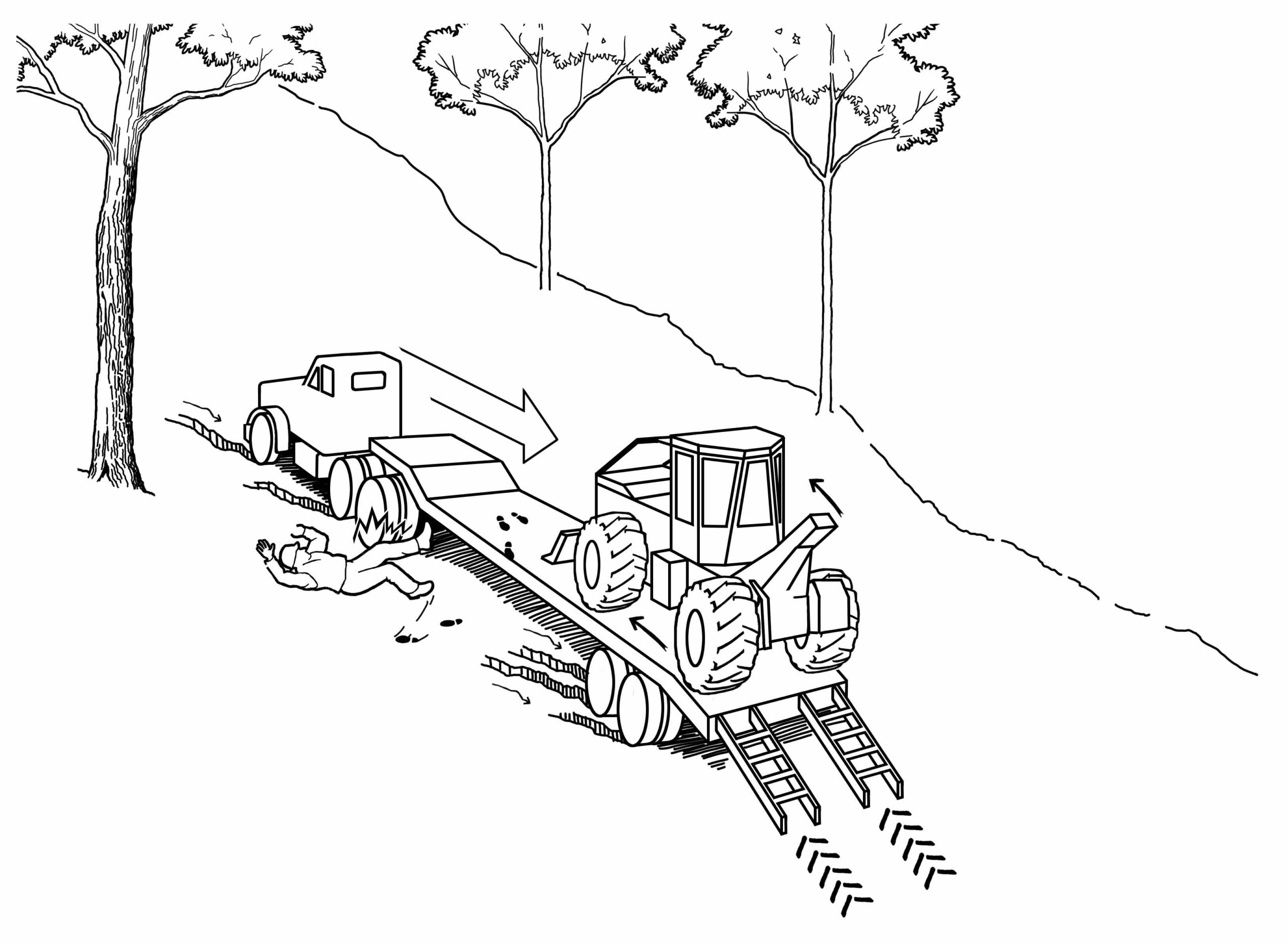 Background
On a Friday evening in the Appalachians, a logging business owner and a crew member were loading a cable skidder onto a trailer. It was the end of a work week. The weather was fair on this fall day, and the terrain was hilly.
Personal Characteristics
The owner was about 50 years old and had over 30 years of logging experience. The skidder operator was in his upper-thirties and had approximately 15 years of logging experience. Neither of them was wearing personal protective equipment at the time of this incident.
Unsafe Acts and Conditions
Both individuals were in a hurry to leave the job to go home for the weekend. The owner had parked the truck and trailer on a slope. He set the brakes in the tractor but did not set the trailer brakes. He climbed onto the trailer to guide the skidder operator in driving the machine onto the trailer. The owner directed the skidder operator to straighten out his wheels because one of the back wheels was almost sliding off the trailer.
Accident
As the skidder operator was attempting to straighten and center the skidder on the trailer, the truck and trailer started rolling backwards; it is believed that the skidder movement lifted the front of the trailer and the rear wheels of the tractor, causing the entire rig to start rolling. The truck driver (owner) jumped off the trailer to set the brakes, but he slipped and fell, landing in the path of the rolling truck. One pair of the tractor tandem-axle tires rolled over the driver's left leg. He was able to move out of the way before the second pair of tires ran over his leg. He managed to get up and set the trailer brakes.
Injury
The owner's left leg was badly bruised, and he was unable to walk for a few days due to severe pain. The owner chose not to go to the hospital. He gave most of his crew members a week off for vacation while he stayed at home to recover. His recovery seemed complete after suffering through about two weeks of pain.
Recommendations for Correction
Park trucks and trailers on level ground while loading or unloading equipment. Set both the truck brakes and the trailer brakes before loading or unloading. Use wheel chocks if necessary. Always wear appropriate personal protective equipment.
Anyone directing equipment during the loading process should not place himself in an unsafe position. All workers should be trained in first aid procedures and emergency/rescue procedures in the event of an injury on the job. Seek medical attention following an injury.