20-S-16
Logger Seriously Burned by Warming Fire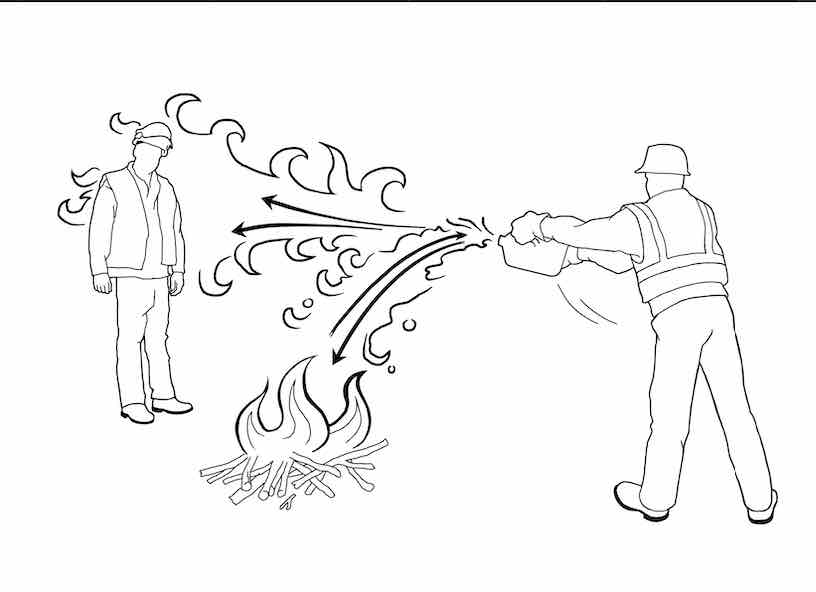 Background
On a late fall day in the Pacific Northwest, a logging crew was standing by a warming fire during their lunch break.
Personal Characteristics
It is unknown how much training or experience the crew had.
Unsafe Acts and Conditions
Via skyline, the choker setter on the yard sent the crew their lunches and milk jug filled with fuel for a warming fire (the mixture was 3/4 diesel, 1/4 gas).

The skyline was lowered to the ground and the landing crew began moving the guy line. During this time, a fire was built, and the rigging crew huddled around the fire to stay warm. The fire began to die down and the choker setter decided to add some of the fuel mix to the fire.
Accident
When the choker setter splashed the mixture onto the fire, the flame from the fire went back to the jug, and the remaining mixture exploded and shot onto the victim who was standing near the choker setter and the fire. The fuel mixture covered the victim's left arm, chest, left side of his neck, and part of his face. He immediately went to the ground and started rolling in an attempt to extinguish the flames. The rest of the rigging crew jumped on the victim to extinguish the fire. During the process, the victim's clothes were cut off him, and the fire was eventually extinguished. The crew immediately called the landing and initiated the company's emergency medical plan. The crew was approximately 800 feet from the landing, and the terrain was extremely steep and rocky. It was decided to use the yarder to pull the stretcher with the victim to the landing, with the assistance of the crew. After reaching the landing, Life Flight transported the victim to the hospital, where he was immediately transferred to a regional burn center for further treatment.
Injury
The victim sustained burns to 25 percent of his body. He was hospitalized for approximately six weeks.
Recommendations for Correction
Use of accelerants to start fires is exceedingly dangerous. Accelerants should never be poured on to fires once started.
Employers must verify that all current and new employees have received adequate job safety instruction and training.