Summary of Business – FRA 2023 Appalachian Region Fall Meeting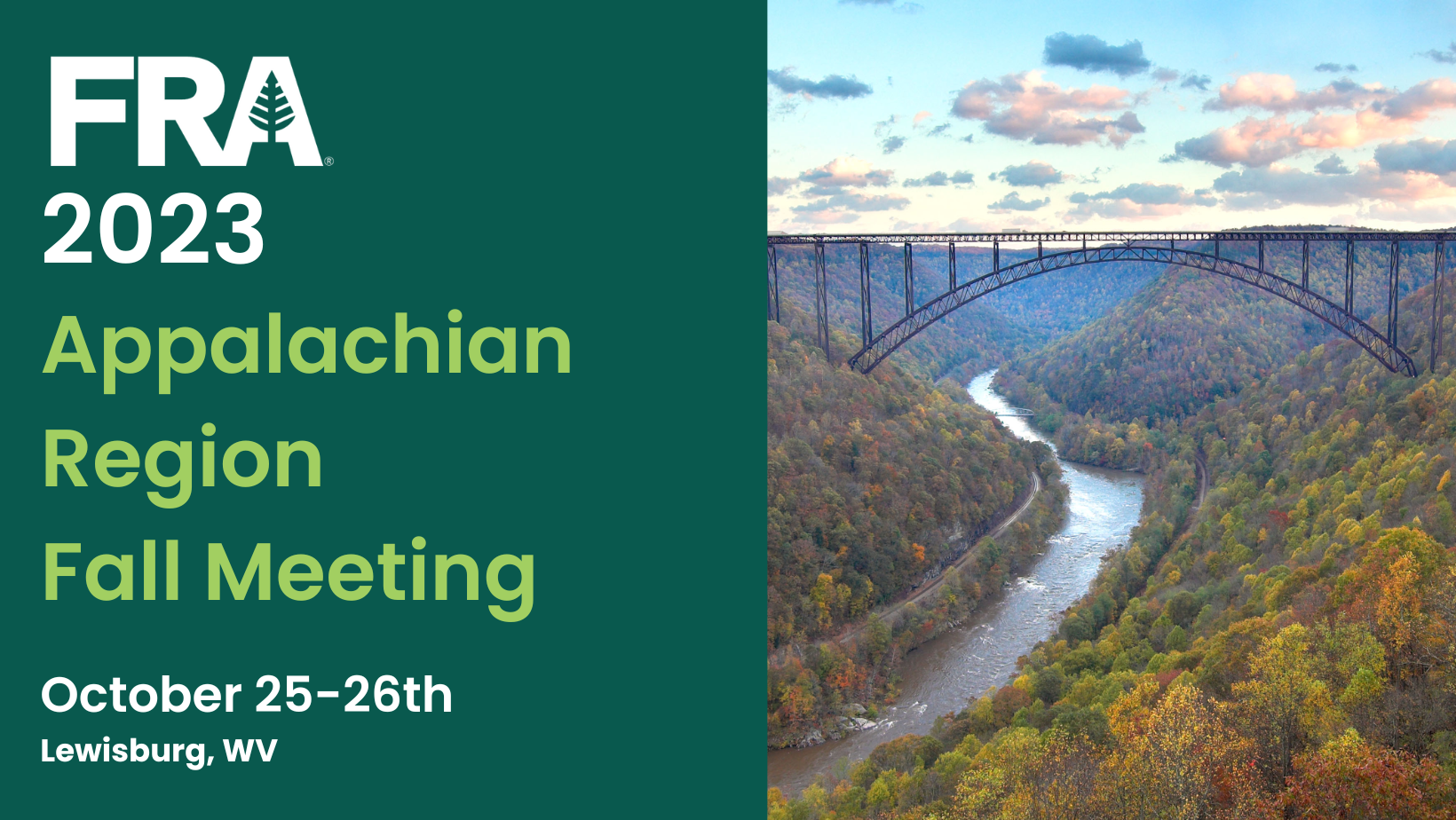 ---
Last week, FRA held its 2023 Appalachian Region Fall Meeting in Lewisburg, WV. For two days, FRA members, dynamic speakers, and regional forestry community members gathered to discuss important issues affecting the wood supply chain. This year's meeting had strong attendance, including 14 forestry students from the Mountain Gateway Community College in Clifton Forge, VA.

The meeting began with a social gathering at the Dutch Haus Restaurant, providing an important opportunity for networking and the chance to connect with fellow members. It continued the following day with FRA's Appalachian Steering Committee Chair, Wes Miller of A.M. Logging, providing opening remarks and introducing FRA's new President, Keith Gray. Keith officially took office on November 1st, as Deb Hawkinson retired after over a decade of service to FRA. Featured presentations included a video presentation by Dr. Melissa Kreye, Ph.D., Penn State University, highlighting forest carbon, carbon markets, and the timber economy, and a session from Pat Donnelly discussing the Timber Safe Network and general logger safety in the Appalachians. Members also heard an overview of the Westrock mill in Covington, VA. A special session on workforce development was given by Rich Reigel, Program Head of Mountain Gateway Community College (MGCC). It included first-hand testimonies from young MGCC students interested in forestry.

That evening, FRA hosted its Appalachian Region Awards Dinner and recognized Metzler Forest Products as the Appalachian Region Outstanding Logger. Alan, Jill, Nate, Logan, and Lucas were all present at the banquet and were presented with a wooden cross-cut saw award. Additionally, Mitchell Isham, with STIHL, presented Metzler Forest Products with a $500 check and a certificate for an MS462 chainsaw. Metzler Forest Products will now compete for national recognition at the FRA Annual Meeting in April 2024.




The second day was dedicated to regional tours. FRA members met early in the morning and carpooled to Zach Hubbard's logging job. Highlighting safety, his logging operation uses a winch-assist tethered system to support mechanized felling on steep slopes. This minimizes manual felling and provides an enclosed cab, keeping people safer and out of harm's way! The second stop was at the West Virginia Great Barrel Company in Caldwell, WV. Brett Wolfington, Chief Operating Officer, welcomed FRA members and gave an overview of the company, including their plans for future growth. The technology used in their wood barrel manufacturing has the lowest leak percentage in the industry, and their system allows for precision toasting and controlled char. They are a testament to wood product innovation and a leader in the industry!




Please find below a list of meeting speakers and topics. The presentations we have permission to share have been posted to the FRA website forestresources.org under Resources / Presentations. You must be signed in as a member to access these presentations. If you have any issues, please contact Vanessa Connelly at [email protected]

Forest Carbon, Carbon Markets and the Timber Economy- Melissa M. Kreye is an Assistant Professor of Forest Resources Management in the Department of Ecosystem Science and Management and an Extension Specialist at Pennsylvania State University.

Overview of the Westrock Covington Mill– John Hancock, Regional Fiber Supply Manager for the Westrock Covington Mill

Workforce Development and Negotiating the Challenges– Richard Reigel, Program Head, Mountain Gateway Community College Forestry Associates of Applied Science Program

The Timber Safe Network and Logger Safety in the Appalachians- Pat Donnelly, Safety and Health Research Assistant at WVU Extension


Thank You to our Sponsors