The Importance of Log Trailer Visibility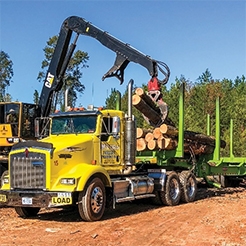 Please take a moment to think about how discernible your log trailers are in low visibility situations. Early morning, late evening, night-time, and fog and rain can create conditions that make it difficult to see your log trailer when loaded or unloaded. I am aware of several tragic accidents caused by vehicles striking log trailers backing into job sites, pulling out on to the roadway, and even backing into routine off-duty parking areas at the driver's home or company shop.
Some time ago, one such accident occurred during early morning hours not far from where I live. A log truck driver was backing off a paved primary highway into the loading deck of a logging job with emergency flashers engaged. Visibility was limited by darkness before sunrise. An oncoming vehicle struck near the center of the log trailer, causing major physical damage to the oncoming vehicle and log trailer. The driver of the oncoming vehicle later stated he did not see the log trailer. Fortunately, neither driver sustained any apparent injuries. The drivers of both the log truck and the other vehicle got out to assess the damage. Within moments, another vehicle traveling in the opposite direction collided with the log trailer, and that driver was killed instantly. I can only imagine the third driver did not see the log trailer either.
In the above-mentioned accident, even if the truck-tractor and the rear of the trailer were properly lighted and flashers engaged, the space in between was not as visible. The log trailer was an older model, and the reflective tape worn to the point of being barely visible. There is a very good chance this tragic event would have been avoided if the log trailer had been more visible.
I understand that sometimes the other vehicle's driver may be at fault due to not paying attention for whatever reason. That happens more often in today's world of cell phones and texting. If your truck and trailer are involved in an accident of this nature, you will likely have to defend your truck's actions and condition regardless of who is at fault. I cannot stress to you enough the importance of proper lighting (including flashing lights along both sides of the trailer) and reflective devices such as high visibility tape when defending the log truck owner against legal actions in accidents such as this. (Use of flashing lights and a flagman with light and hi-vis reflective vest are important when blocking a road after dark or when there is poor sight distance. And many times, log deck or parking spot design can eliminate the need to back into a harvest site.)
Another issue regarding log trailer visibility is the color of your trailer. It seems to me that most new log trailers are delivered with a black paint finish. According to one trailer dealer, the extra charge to have a new trailer painted a bright orange or another highly visible color may range between $500 and $850, depending on color choice. I believe the extra cost to have a brighter color is well worth the additional visibility for your log trailer.
Remember, our families and friends are traveling the highways with these log trucks that provide a living for most of us. Properly maintained and highly visible log trailers will help make conditions safer for everyone.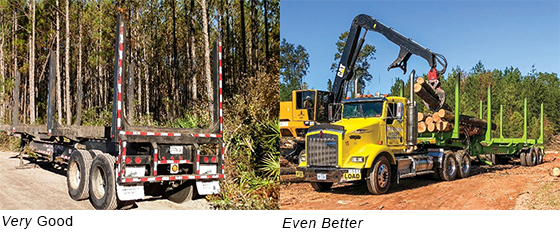 Article author info:
Jimmie Locklear
Risk Control Services
Forest Insurance Center Agency, Inc.
Cell – 906-291-0011
[email protected]