"Move It or Lose It!"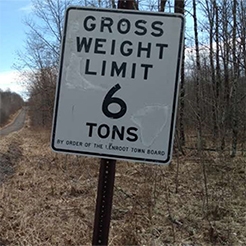 It's hard to think of any saying that fits the wood fiber supply chain any better than, "Move it or lose it!" For the wood supply chain to function properly, there must be a means of safely and efficiently moving wood fiber from the forest, through primary and secondary processing, and on to the ultimate end user.

In some cases, the supply chain is short and has only a few links. In other cases, the chain is long with many links. A whole-tree chipping operation feeding a local wood-powered electrical generating facility is an example of a short supply chain with few links. An example of a long supply chain with many links might start with oak logs from Iowa exported to China to be turned into lumber and veneer that is made into furniture for export to global markets.
From the landowner's perspective, it's important that the timber harvested by the logger be promptly removed from the harvest site and transported to the primary processing facility. Advantages of timely transport of timber from harvest site include:
Minimizes weight/volume loss due to wood moisture loss,
Reduces potential for grade loss from stain and checking,
Allows reforestation and other post-harvest treatments,
Lessens potential for fire and insect damage,
Limits opportunity for loss from theft and vandalism.
Loggers also want timber moved from the harvest area as soon as possible, as storage losses in weight, volume, and grade directly impact revenue. Large volumes of logs and pulpwood stockpiled on harvest sites can impede the movement of logging equipment, thereby slowing – or, in extreme cases, even stopping – logging operations. Ideally, there should be a close balance between harvest capacity and trucking capacity, with logs and pulpwood moving continuously from the stump to roadside landing, to receiving mill or other destination. Wood piles in the woods do not benefit the logger. Payment is based on the value of wood delivered to market; i.e., "Move it or lose it!"

The same principle applies to every other link in the wood supply chain. Inventories of wood fiber (logs, chips, lumber, etc.) are of little value to either the producer or the consumer until the inventory is transported to the next link in the chain where the fiber can be processed into products and/or energy which eventually reach the end user.

Safe and cost-effective transportation is critical to the future health of forests and rural communities in the Lake States Region (LSR). Without the ability to move raw wood fiber from the forest and on through the various steps in processing, it is not possible to practice sustainable forestry. A healthy, functioning wood supply chain is key to both the forest products industry and to the practice of sustainable forestry.

The forest products industry in the LSR currently has a combined economic impact of more than $60 billion. The region's forests have the potential to support a much larger industry, as net forest growth is nearly double the current annual timber harvest. FIA data also shows the region's average annual forest mortality increasing while harvest levels drop, an indication of rising forest health issues.
Transportation is seen as one barrier to the growth of the LSR's forest products industry. Michigan, Minnesota and Wisconsin have very different truck weight laws which make cost-effective transport across state lines more challenging. Varying weight limits on local roads within states are also an issue. Rail service has steadily declined in the region due to the aging infrastructure and fleet, making future rail abandonments increasingly likely. All these factors make "moving it" in the LSR difficult and more expensive.

At the federal level, it's encouraging to see the administration's proposal for rebuilding the nation's aging transportation infrastructure, with 25% dedicated to rural projects. FRA will continue to be engaged in the process to ensure that the specific needs of our members are taken into consideration.

At the regional level, an initiative is underway aimed at improving rail service to the forest products industry in Upper Michigan and Northern Wisconsin. The Northwoods Rail Transit Commission and the Michigan Forest Products Council have enlisted Michigan Technological University's help in analyzing forest products freight movements, with the goal of building a business case for the Canadian National to reenter the log moving business or to allow short line operators to take over service.

At all levels, we need to, "Move it or lose it!" if we are ever to realize the full potential of renewable forest resources to improve our lives, and the lives of future generations.

http://mtti.mtu.edu/category/research-projects/research-area/transportation-systems/