FRA Announces New President
FOR IMMEDIATE RELEASE
Forest Resources Association Announces Keith Gray as its New President, a Seasoned Leader in Agriculture and Public Policy
Washington, DC — The Forest Resources Association (FRA) is pleased to announce the appointment of Keith Gray as its next President, effective November 1, 2023. Gray succeeds Deb Hawkinson, who is retiring after leading FRA for the past eleven years.
"Keith made a deep impression on the search committee with his knowledge, professionalism, and vision," said Pete Stewart, FRA Chairman of the Board. "He has made a tremendous impact during his time at USDA to date, and we have no doubt he will continue this momentum as FRA's new President." Stewart also thanked Deb Hawkinson for her many years of service, noting that 'the changes she has made to the association's strategy, structure, and organization leave FRA well-positioned for continued success."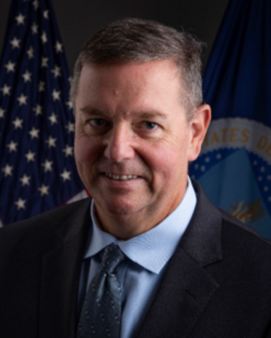 FRA welcomes Gray as President-elect from September 5, and looks forward to witnessing the positive impact his leadership will have on the forest products industry. Throughout his distinguished career, Gray has demonstrated an unwavering commitment to the agricultural sector, serving as a key advisor and top career Senior Executive to the Administrator of the U.S. Department of Agriculture (USDA) Risk Management Agency (RMA). In this capacity, he has played a crucial role in various senior-level meetings, programs, and initiatives both within and external to USDA, showcasing his deep understanding of government policies and fostering productive relationships with national agricultural stakeholders.
Gray's extensive experience within the USDA extends to his involvement with the Farm Bill Implementation Working Group, the White House Task Force on Rural Prosperity, and the Multi-Agency Coordination Committee (MAC) for natural agricultural disasters. His contributions to the Farm Production and Conservation (FPAC) mission area meetings have further solidified his reputation as a trusted advisor and a dedicated advocate for agricultural prosperity.
In his tenure with RMA, Gray has showcased his resourcefulness by leading or participating in crucial assessments related to IT investments, human resources, enterprise risk management, budget and financial matters, civil rights, performance management, policy analysis, grants and agreements, acquisitions and procurement, and homeland security. His adept facilitation skills have fostered seamless communication and collaboration within RMA's leadership team, contributing significantly to the agency's strategic planning and goal implementation.
Prior to his role at RMA, Gray served as President of Gray Matter Consulting, LLC, where he garnered decades of political experience both on and off Capitol Hill. He is known for his successful track record in securing funding through grants and federal contracts. Gray's diverse experience also includes working as the Washington Representative for the Alabama Farmers Federation and ALFA Insurance Companies, as well as serving as a legislative assistant for Congressman Terry Everett (AL) on the House Agriculture Committee, where he covered agriculture, energy, education, and healthcare issues.
Gray is the former Area Vice President of the National Capital Area Council in northern Virginia and the District of Columbia for the Boy Scouts of America. Gray is a graduate of the University of Alabama and the George Mason School of Law.
"I am honored to be selected as the next President of FRA, and I look forward to continuing to grow the organization and advocating for all members across the wood supply chain," stated Gray.
The Forest Resources Association (FRA)represents the interests of over 330 organizations and businesses in the forest products industry. Our members include forest landowners, suppliers, consuming mills, associated businesses, and state forestry associations. FRA promotes the interests of its members in the economic, efficient, and sustainable use of forest resources to meet the needs of the wood fiber supply chain through private enterprise. FRA members are represented in 49 states and 384 congressional districts. More information can be found at www.forestresources.org
For media inquiries or further information, please contact:
Vanessa Connelly, FRA Communications & Marketing Manager
202-296-3937