20-S-17
Thinning Project Employee Injured by Chainsaw Kickback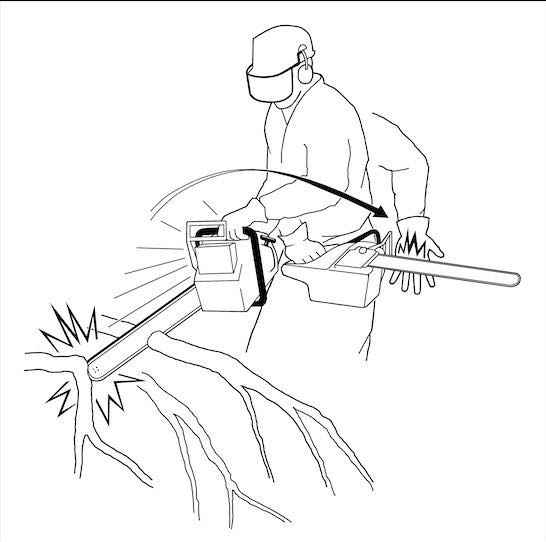 Background
On a late fall day in the Pacific Northwest, a crew conducted a small diameter tree thinning project. Trees that were less than 10 inches in diameter at breast height (DBH) were cut down, cut into pieces, and put in piles. Piles were then trimmed to look squared and parallel.
Personal Characteristics
It is unknown how much training or experience the employee had.
Unsafe Acts and Conditions
The victim was operating a power chainsaw and trimming one of the piles of branches and wood debris. As he was cutting one branch, the tip of his power chainsaw hit another branch, causing the saw to kickback.
Accident
The kickback of the chainsaw forced the victim's left hand off the front handle of the saw, which left his right hand still on the back handle and throttle. The saw was then at full throttle coming back toward his hip, so he put his hand up to push the spinning saw chain back away. When his hand hit the spinning saw chain, it caused several lacerations to his hand. Another employee was working with the victim and saw that he was injured, so he ran and got the supervisor, who transported the victim to the hospital.
Injury
The victim suffered multiple lacerations to his left hand and surgery was required to repair the tendons.
Recommendations for Correction
Employers must provide all employees with training that includes the safe use, operation, and maintenance of chainsaws and other equipment used.
All supervisors and employees must be trained in first aid and cardiopulmonary resuscitation (CPR) prior to their initial assignment.