20-S-08
Chainsaw Operator Killed While Trimming Logs at Landing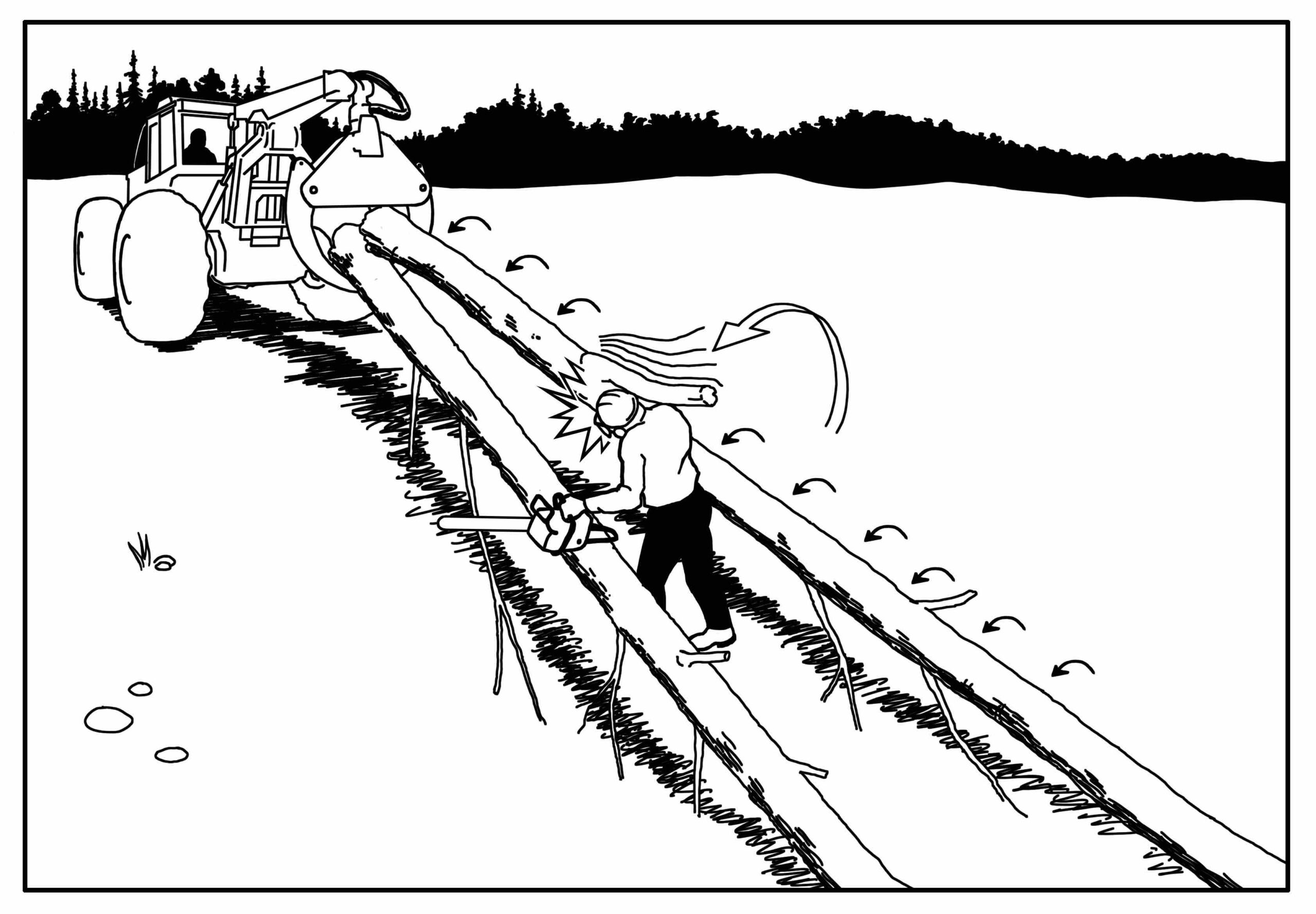 Background
One late winter day in the Southeast, a chainsaw operator was trimming two beech trees at the landing. The excessively brushy trees had been pulled up to a flat area near the loader to be trimmed and have the brush piled.
Personal Characteristics
The chainsaw operator was wearing all required PPE for the task at the time of the incident. He was considered fully trained to perform his duties.
Unsafe Act or Condition
The chainsaw operator began trimming the trees from the tops. Before completion of trimming the two trees, the crew stopped for lunch, and the crew sat on said trees to eat. After lunch, to facilitate trimming, the chainsaw operator asked a skidder driver to lift the trees at the butts with the grapple about two feet from the ground as the remaining limbs to be trimmed were on the bottom of the trees. At some point, the chainsaw operator positioned himself between the two trees during the trimming process. While trimming, one of the trees rolled a little, and the chainsaw operator stopped trimming and looked at the skidder driver to make sure the equipment was not moving, per their procedure. The skidder was not moving.
Accident
The chainsaw operator looked back to the trees and began to take a step when the tree rolled again. As the tree rolled, a fork, about six inches in diameter, that had been on the bottom, swung around and struck the topper on the right shoulder and right side of his head.
Injury
As it continued moving, it knocked the chainsaw operator to the ground. He struck his head against the other tree, which caused it to be caught in between the two trees. This was the fatal blow.
Recommendations for Correction
Employees must continually assess the potential for "stored energy" that could cause the trees to shift. A limb lock/top lock technique could have kept the fork attached, preventing the shift.
Employees should never place themselves between two suspended logs.
Skidders should not be used to suspend logs for trimming by chainsaw.
With the chainsaw operator out of harm's way, roll the logs over with other equipment to improve access to the remaining limbs.